By Congrify's team
It's our goal to unlock the power of payment data and intelligence for global merchants and fintech companies.
Over the last few months, we have been busy with many things, integrating new payment service providers into our product and developing a unique solution to help customers fully access their data from every payment provider and derive the actionable insights they need to run their business, generate more revenue and reduce operating costs.
Today, we are delighted to announce the launch of Congrify's data pipeline module — a no-code service that allows merchants to seamlessly sync payment data from different providers in a standardized and enriched format and then upload it directly to a data warehouse.
As a result, businesses no longer need to spend months building complex integrations to extract data from payment service providers, this is available as a no-code solution where payment data are directly synced with your data warehouses.
The problem with processing payment data
It takes a lot of integrated tools and platforms to make online payments a reality, from payment service providers and wallets to fraud prevention solutions and ERPs.
Merchants need to access data from all of those sources to:
Perform daily reconciliation
Monitor payment performances
Close invoices and payment accounting books
Identify revenue growth opportunities
Improve fraud and risk modelling
Optimize sales and marketing campaigns
Understand customer behaviours and preferences
For most businesses, working with disparate data sources is far from easy.
The data ingestion process is complex, only partially automated and usually reliant on manual calculations performed in Microsoft Excel and other business intelligence tools. Try to work with two or more data sources and the process gets even more complicated.
Building a bespoke API integration is expensive and time-intensive
Ideally, merchants would use state-of-the-art processes that leverage data pipelines with Extract, Transform and Load-based processes that are fully automated.
But that kind of setup requires a lot of work. Companies would need to spend thousands of man-hours and financial resources on a process that looks something like the below:
Setup the data integration with a payment service provider
Prepare data schema to accept the data
Build the data pipeline to receive the data
Structure and transform the data
Proceed with acceptance testing
Go-Live
Perform on-going maintenance
It gets more complicated, however, because data from different channels come in different formats. Merchants would need a deep understanding of payment processing to ensure everything is implemented correctly. Worse still, the steps highlighted above would need to be repeated every time merchants want to integrate a new payment service.
What does it cost to build and maintain the kind of infrastructure discussed above?
We estimate it would cost in excess of $400,000 and require over 1000 hours of work just to implement the system. Some payment service providers estimate costs up to $800,000!  Merchants would also need to source the expertise of software engineers, DevOps, data engineers, product owners, business analysts, and payment managers.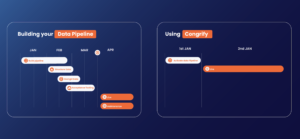 All told, in the best-case scenario we estimate it takes at least three months to build the infrastructure to ingest data from two payment providers.
But work doesn't stop once the system is implemented. All those steps need to be maintained and regularly updated, as payment service providers might add new fields in their files, add new reports and versions.
Save time and resources with Congrify
Our goal with Congrify data pipelines is to offer an easy and stress-free alternative to merchants and fintech companies. After all, why waste all this time and resources when the same functionality can be integrated within a day through a ready-to-use solution?
Confrify's data pipeline is a no-code solution that does not require merchants to integrate a new API or make technical changes to access the data they need.
The platform accesses your payment data directly from the payment service provider. All you need to do is approve Congrify to access that data. We take care of all the operational work and maintenance, so your business can focus on empowering teams with ready-to-use data and generate actionable insights.
How does Congrify's data pipeline solution work?
Here's how the data pipeline works in practice for a merchant using Adyen and PayPal as payment providers and Snowflake as a data warehouse.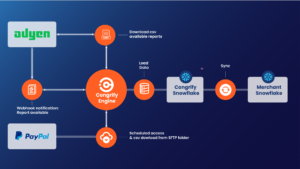 Congrify access merchant data daily, as soon as the PSP reports are made available or when a notification is received.
Congrify analyzes the data and makes adjustments to create a standardized format.
We import the data directly into a data warehouse that is shared and synced with the merchant's account.
The merchant has full access to the uploaded data and can monitor activity via Congrify's web app.
Currently, Congrify supports syncing with Snowflake and Amazon Redshift and can extract data from the following payment providers:
Adyen
PayPal
Braintree
Checkout.com
To learn more about how Congrify's data pipelines can help your business succeed, get in touch using the contact form or drop us a message to [email protected]